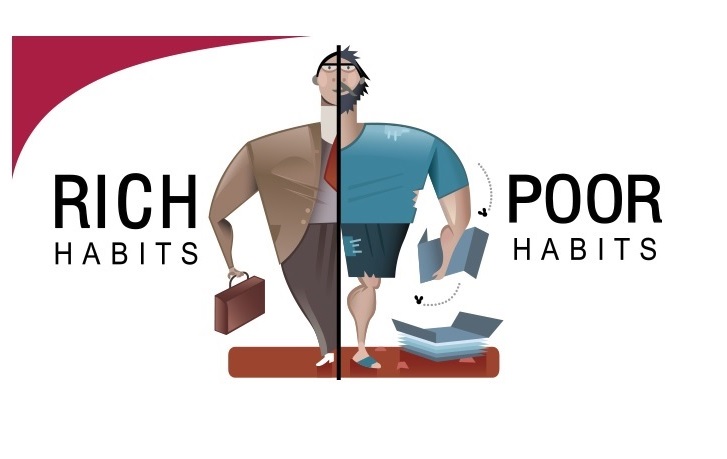 The aviation industry was one of the first industries to institutionalize checklists as part of their industry business model.
Today, ground crews are required to complete checklists whenever a plane comes in and complete another checklist before a plane departs.
Likewise, pilots must complete multiple checklists before, during and after a flight.
Why?
Checklists institutionalize success. They reduce the risk of mistakes that can lead to failure.
Checklists are, in effect, mandatory success habits. They insure against failure and put success on autopilot.
The use of checklists also happens to be a Rich Habit.
Back in 2007, when I was wrapping up my Rich Habits Study, I was trying to forge some of the Rich Habits I had discovered during my study. In order to ensure I followed my Rich Habits, I used checklists almost on a daily basis. Oftentimes, I embedded them into my To-Do List.
Here's an example of my daily checklist:
Ran at least 15 minutes today
Read to learn at least 60 minutes today
Wrote at least 1,000 words today
Lifted weights today
Made Happy Birthday Calls today
Made Hello Calls today
Returned all phone calls today
Did not drink any alcohol today
Ate < 1,800 calories today
Did not curse today
Expressed Gratitude today
Returned all emails today
I modified my checklist for certain things, like lifting weights, which I do every other day. I'll just write n/a next to checklist items that aren't applicable for that particular day. You'll notice that most of the items on my checklist are Rich Habits I am trying to incorporate into my life. In this regard, the checklist becomes your accountability partner or reminder system to help keep you on track.
My Rich Habits checklist helped me go from 212 lbs, in July of 2007, down to 174 lbs by February 2008, thanks to the running, reduced alcohol consumption and calorie restriction.
My Rich Habits checklist reduced my blood pressure from 140 over 102 down to 118 over 78, thanks to the daily running I was doing.
My Rich Habits checklist enabled me to write 5 books, thanks to the requirement that I write 1,000 words every day. The royalties and paid speaking engagement fees that resulted from my books, are now two very important streams of income I didn't have before. The vast majority (65%) of the self-made millionaires in my Rich Habits Study had three or more streams of income, so building revenue streams is important for financial success.
My Rich Habits checklist helped me to forge stronger relationships with other success-minded or successful people, thanks to the Happy Birthday Calls, Hello Calls, Life Event Calls and staying on top of my phone calls and emails.
The truth is, I no longer need to rely on these checklists. After about six months, the Rich Habits became my habits. And, once they became habits, I found myself engaging in them almost every day, without needing a checklist for external accountability or a reminder tool.
Create your own Rich Habits checklist and devote yourself to it for six months. You'll be pleasantly surprised at the progress you'll make and your life will improve.
It might even make you rich!