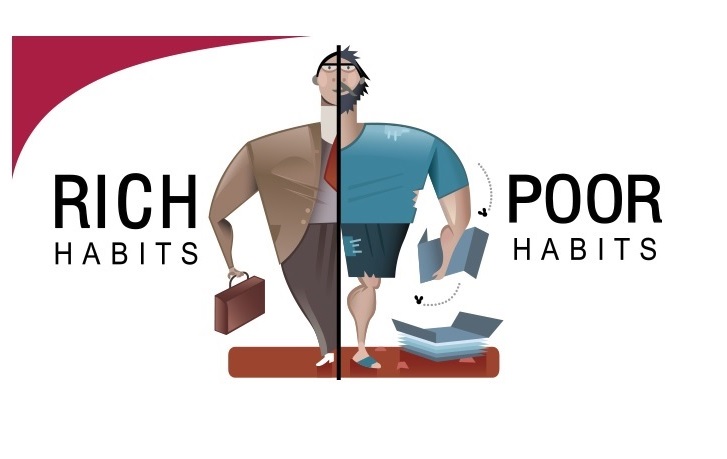 Rich Habits are the habits that were common among the self-made millionaires in my Rich Habits Study.
As you know, there are 4 Paths to Wealth. Each path has unique Rich Habits that helped those self-made millionaires become wealthy.
Below are the Common Rich Habits among the Virtuoso Self-Made Millionaires in my Rich Habits Study:
I Will Define My Dreams and Create Goals Around Each Dream (Dream-Setting) – Virtuosos have a plan. They know where they want to be ten, twenty years into the future. Because they have a clear vision of where they are going, they are willing to put in the work and have forged growth habits to help them automate their continuous growth in knowledge or skills.
I will Devote Time Each Day to Daily Self-Improvement – Knowledge-Based Virtuosos engage in a minimum of two hours a day to self-education in order to maintain and grow their knowledge-base. Skill-Based Virtuosos devote three to four hours a day to Deliberate and Analytical Practice.
I Will Save and Invest Part of My Income – Like the Saver-Investors, most Knowledge-Based Virtuosos forge the Rich Habit of consistently saving 20% or more of their net income. This enables them to then prudently invest their savings over many years.
I Will Take Action on My Goals Every Day – Virtuoso goals include daily education and/or practice. They have specific goals they are pursuing which will make them more knowledgeable or expert in what they do.
I Will Live Each Day in a State of Moderation – Knowledge-based Virtuosos live fairly modest lifestyles, which allows them to save and invest.
I Will Do Work That I Like or Love – Virtuoso's, second only to Dreamer-Entrepreneurs, like or love what they do for a living, especially Skill-based Virtuosos.
I Will Never Quit on My Dreams – It takes many years for Virtuosos to become expert in what they do. This requires persistence and a Never Quit mindset.
I Will Seek Out Success Mentors – Virtuosos typically have success mentors they have apprenticed for or expert coaches who help provide them with guidance and feedback.
I Will Focus on My Goals and Dreams – The Virtuoso path requires an ability to focus many hours each day, for many years. Virtuosos do not allow themselves to be distracted by anything which would interfere with their intense desire to stay focused on their goals and dreams.
I Will Maintain and Improve my Knowledge-base Through Writing – Most Virtuosos write for industry trade magazines/publications. Some also share their knowledge on blogs and the media. This helps to boost their personal brand and Virtuoso status.
I Will Maintain and Improve my Knowledge-base Through Speaking – Many Virtuosos are professional speakers. They share their expertise with thousands of people every year at conferences and industry-related events. This helps to boost their personal brand and Virtuoso status.
I Will Devote 30 Minutes or More to Daily Exercise – Most Skill-Based Virtuosos exercise daily in order to maintain their physical strength and health, which enables them to perform their skills optimally.
I Will Control My Words and Emotions Every Day – Virtuosos understand that in order to effectively work with others, including customers/clients, they must control their emotions. No one wants to work with or do business with individuals who lose their temper or are emotionally unstable.
I Will Seek to Meet or Exceed the Expectations of Others – Virtuosos are Virtuosos because they desire to be the best at what they do. The desire to meet or exceed the expectations of others drives them to grow and improve in their knowledge and/or skills.
I Will Seek Feedback From Others – Virtuosos seek feedback from supervisors, mentors, customers/clients and others in order to become better at what they do.
I Will Ask Questions in Order to Learn From Others – Virtuosos ask a lot of questions. They do this in order to learn, grow and improve.
I Will Seek to Add Value to Others – The very reason Virtuosos are the highest paid within their industry is their desire to add value to the lives of those they serve.