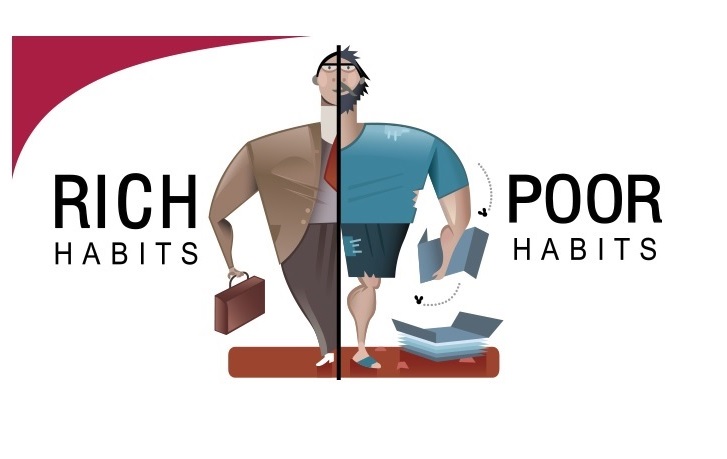 Thanks to my Rich Habits research, I've accumulated an enormous amount of information and data on successful people.
While most successful people go about their lives under the radar, a few achieve Greatness.
Greatness is a moniker attached to those whose success becomes so legendary that they rise to the level of celebrity. Media outlets, all over the world, help spread that celebrity for all to read, hear or see.
In my Rich Habits journey, I have had the privilege to meet and talk with some of these celebrity success stories, such as Sir Richard Branson, Mark Victor Hansen, Robin Sharma, Robert Kiyosaki and Dave Ramsey.
Their lives become books and a part of the historical record.
I've learned through my research that Greatness is either sought out, or thrust upon, successful people.
Elon Musk has an obsessive desire to create a second home on Mars for humanity. His vision led to the creation of SpaceX.
At the end of 2008, Musk, and all of his companies, were on the verge of outright bankruptcy.
His Falcon 1 rocket had failed to reach orbit for the third time in early August, 2008 and he was running out of money.
Musk had gone through most of the $180 million windfall he received in 2002, when eBay acquired his PayPal stock. Plus he had tapped out all of the hundreds of millions of dollars venture capitalists and the Federal government had collectively invested in SpaceX.
Most would have thrown in the towel after so many failures. But Musk refused to quit.
He put everything on the line on September 28, 2009, the fourth attempt to put his Falcon 1 rocket into orbit. Everything hinged on that fourth flight. If it failed, it was over and with it, Elon Musk would have been one of the most successful failures in history.
Only he didn't fail. On his fourth try, the first privately built rocket made orbit and Elon Musk entered the history books.
Since then, countless articles and books have been written about the Great Elon Musk.
Musk sought greatness.
Much of Ulysses S. Grant's early life had been a failure. When he graduated at the bottom of his West Point class, and reenlisted in the Civil War, he was not on any army General's radar.
But then Fort Donelson happened.
The Battle of Fort Donelson was one of the Union's few major victories in the early days of America's Civil War. Grant's victory ensured that Kentucky would remain in the Union and helped open up Tennessee to future Union advances.
Ten years before Fort Donelson, Captain Grant had submitted his resignation from the U.S. Army, citing his dislike for the military profession. But, when the Civil War commenced, Grant re-entered the Army to help his country.
Fort Donelson marked a turning point in the career of Grant, whose steadfastness and resolve during the battle, including his refusal to accept anything less than a complete and total Confederate surrender, catapulted him to fame.
Soon after, Grant was given command of all of the Union Armies. When the war ended, he was called upon to run for president. He reluctantly agreed, won the election and became the 18th President of the United States.
Grant did not seek Greatness, it sought him.
The point is, the pursuit of success is heroic and those who pursue success are heroes. Sometimes that heroism is rewarded with Greatness, whether you want it or not.