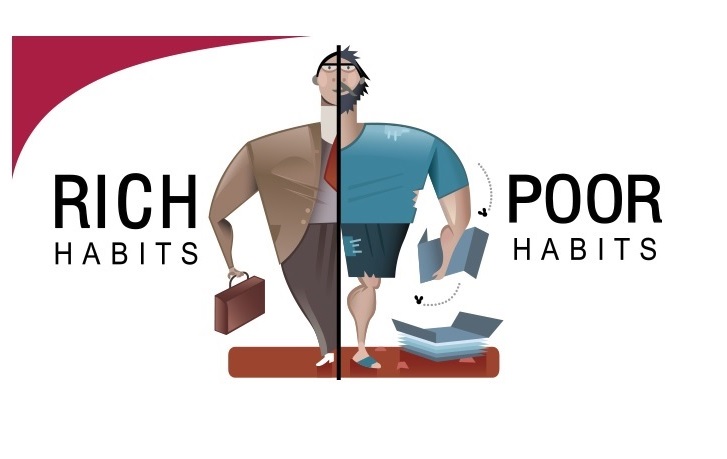 Rich Habits are the habits that were common among the self-made millionaires in my Rich Habits Study.
As you know, there are 4 Paths to Wealth. Each path has unique Rich Habits that helped those self-made millionaires become wealthy.
Below are the Common Rich Habits among the Bi Company Climber Self-Made Millionaires in my Rich Habits Study:
I Will Adopt Good Habits – Big Company Climbers make a concerted effort to self-assess their good and bad habits. This helps them to "know thyself", which is a key to growing into the person you need to become in order for success to visit you.
I will Define My Dreams – AKA Dream-Setting. Big Company Climbers created a vision for where they wanted to be in ten or twenty years. This vision became their blueprint, which helped them to create the life of their dreams.
I Will Devote at Least 30 Minutes Each Day to Self-Education – Big Company Climbers devote 30 minutes or more, every day, in reading to learn. Typically, they focused their reading on material that was directly related to their company, industry or job.
I Will Devote 30 Minutes or More to Daily Exercise – Big Company Climbers exercise every day. Their core exercise is aerobic exercise, but many also engage in weight lifting and/or resistance exercises.
I Will Seek to Build Strong Powerful Relationships with Influencers – Big Company Climbers devote a significant amount of their available time in building and maintaining strong relationships with Influencers within their company and industry.
I Will Control My Words and Emotions – Because there is a great deal of stress during their climb up the big company ladder, Big Company Climbers are required to forge the Rich Habit of controlling their words and emotions. Losing your temper and saying something you regret can very quickly destroy a career built over many years.
I Will Create Goals Around My Dreams – Big Company Climbers create goals around each one of their dreams.
I Will Engage in Positive Thinking Every Day – Big Company Climbers are upbeat and optimistic. This enables them to see solutions to problems and overcome obstacles.
I Will Seek Out Success Mentors – Mentors are the fast-track to success. Mentors help teach Big Company Climbers what works and what works. Mentors also infect Big Company Climbers with their good habits.
I Will Never Quit on My Dreams – Big Company Climbers do not quit on their dreams and goals. They stick to them for many years. They understand that climbing the ladder in a big company takes a long time and they are willing to do what it takes to climb the ladders.
I Will Seek to Meet or Exceed the Expectations of Others – Big Company Climbers seek to meet or exceeding the expectations of their supervisors or those who rely on them. This helps build trust in and faith in their abilities.
I Will Not Allow Fear or Doubt Stop Me from My Goals and Dreams – Big Company Climbers take risks others are unwilling to take. They take on additional responsibilities, important projects or help lead major initiatives. As they succeed, they are recognized and promoted throughout their careers.
I Will Seek Feedback from Others – In an effort to improve their performance, Big Company Climbers regularly seek feedback about their performance from those they work with, supervisors and customers/clients.
I Wil Ask Questions in Order to Learn From Others – In an effort to learn from others within their organization, Big Company Climbers are not afraid to ask questions from those they work with, experts within their company or industry or their supervisors.
I Will Train Others How to Treat Me – Big Company Climbers understand that true leaders are respected. That respect must often be earned but it also must be demanded of others.